Train for a Triathlon with sheJAMs!
Choose our 12-week program. Programs starts April 24, 2016. All abilities welcome to join!
We will make sure you make it to the finish in top shape!
sheJAMs also has a NEW Southern Maine Open Water Swim Program – see below! 
Triathlon COACHES:
Swim Coach: Kelsey Abbott
Run Coach: Coreen Lauren
Bike Coach: Andrea Brown
MONDAY – Swim 6 – 7 pm
We will start in the Greely High School pool Sunday's with Beginner Class 4 – 4:45 pm Intermediate 4:45 – 5:30 and Advanced 5:30 – 6:15 pm. SUNDAY POOL SWIM DATES:  April 24, May 1, 8, 15 & 22. OPEN WATER SWIM DATES:  June 1 (wed), 6, 13, 20 & 27 ~ July 6 (wed) & 11  We will go from Crystal Lake to the Tri for a Cure Swim Start.
TUESDAY – Run 6 – 7 pm
Run group will meet each week at Park & Ride, Marginal Way, Portland.
THURSDAY/ SATURDAY – Bike 
Bike group travels each week. South Portland, Falmouth, Portland. We move around to challenge ourselves for a different workout each week.   Thursday we meet at 6 pm and Saturday we meet at 8 am.
Bike training dates are as follows:
APRIL ~ Sat 30
MAY ~  Sat 7, Sat 14, Sat 21, Thur 26
JUNE ~Sat 4, Sat 11, Thur 16, Sat 25
JULY ~ Sat 2, Sat 9, Thur 14
WHO CAN JOIN:
This group is for the novice to the intermediate athlete. Come join us and learn in a positive, non-competitive atmosphere! We will teach you how to get across the finish line and feel good!
Meet friends who will encourage you to do your best!
12-Week: April 24th – July 17th COST:   $250 & $50 Membership
ALL PROGRAMS CAN BE PURCHASES INDIVIDUALLY – Swim, Bike or Run
Sign up at the sheJAMs website!
__________________________________________________________________
Southern Maine Open Water Swim Program
 Open Water Swim Training  –  Southern Maine (12 Weeks)  
April 25 – July 11, 2016  
SWIM COACH:  Kirsten Read
We start in the pool for swim instruction and then move to open water.
POOL SWIM:      MONDAY – We will start the program in the University of New England pool in Biddeford for 5 weeks.
DATES:     ~ MONDAY – April 25, May 2, May 9, May 16, May 23    TIME: 6 – 7 pm
OPEN WATER SWIM:  KENNEBUNK POND ~ Monday ~  May 30, June 6, 13, 20,  Tuesday, July 5
MOTHERS BEACH  ~  Monday,  June 27 & July 11
COST:   COST: $150.00 MEMBERS   $175.00 NON-MEMBERS
Discover a love for open water swimming…or just become more comfortable with swimming outdoors in our beautiful ponds, lakes and oceans.  Are you planning a triathlon this spring?  Looking to swim Peaks to Portland?  Maybe you swam as a child and have wondered about getting your fitness back?
Kirsten Read will be coaching the swim group. She is a very experienced open water swimmer and a certified Level I & II masters coach.
This Open Water Clinic is designed to help beginner to advanced swimmers become more comfortable in the open water. You will be introduced to practical navigation skills, relaxation strategies, and what to expect (and not to expect) on Race Day.  The goal is to promote relaxation (and speed) by taking away the unknowns and setting expectations.  The more we practice, the more we know what to expect.
Each clinic will begin with 15 – 20 minutes of discussion, demonstration, and practice in shallow water on the week's focus topic.  Then we will buddy-up and swim to a point and back, the distance depending on your speed, ability and desire.  Remember: it's supposed to be fun!
COACH KIRSTEN READ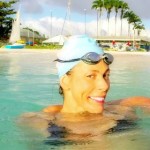 Kirsten began swimming at the age of 8 and went on to win MA state titles and compete at Brown University.   After a hiatus of 20 years she has now embraced masters swimming, and has especially fallen in love with open water swimming.  She has competed in many open water races all over New England and further from home, winning Peaks to Portland, Boston Sharkfest, and the Bermuda Round the Sound 10K, to name a few.  In addition, this return to swimming has provided personal growth, health, friendship, and camaraderie surpassing all expectations.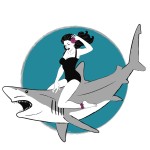 She is now a coach, specializing in open water and technique for masters swimmers and triathletes.  She enjoys sharing her passion and expertise with athletes of all levels and abilities.
TO REGISTER CLICK HERE – Open to both sheJAMs Members & Non-Members